Workshops
Workshop expertise and offerings include some of the following topics listed below.
(If you are also interested in weekly classes, please check schedule here .)
Next Yoga for Healthy Aging Workshop Series:

Bonzai Studio,

 | 15 West Plaza | Suite 147 | Ajo, AZ
Tuesday, November 12, 2019
10:00am-12:00pm BALANCE ($35)
1:30-2:30pm CHAIR YOGA ($10)
Wednesday, November 13, 2019
10:00am-12:00pm WOMEN'S PELVIC FLOOR HEALTH ($35)
The Ajo Community Healing Project is making 5 SCHOLARSHIPS available for these workshops. No application or proof of income necessary. If these workshops could benefit you and your finances are limited, please ask about a scholarship.
More information here
Contact me to be notified of about upcoming workshop dates as they are announced, and to discuss your ideas and needs.
Prenatal/Postnatal Yoga: Prenatal Yoga, Postpartum Yoga, Yoga for Birthing, Postpartum Recovery Yoga, Parent and Baby, Partner Yoga and many more.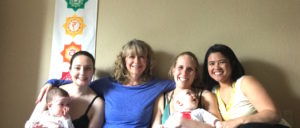 Yoga for Healthy Aging Themes Including: Balance, Posture, Strength, Osteoporosis, Pelvic Floor Health, Agility, Chair Yoga, and many more tailored for you.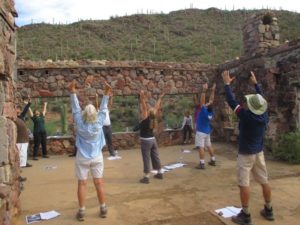 Tonic for the Tissues: Yin, Roll, Relax AKA Yin and Tonic: Upper Body, Lower Body, Whole Body

Workplace Yoga: De-stress at your desk, stress management, before or after work worksite practice, mindfulness and meditation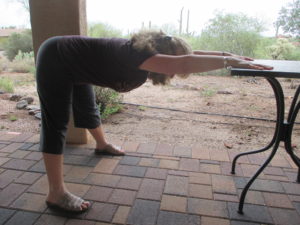 Restorative Yoga Mini-Spa: Stress Management deep release yoga with or without props. Themed and tailored for your group.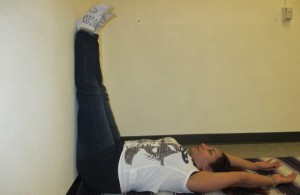 **************************************************************************************************
Sessions Guided By: Bonnie J Golden, M.Ed e-RYT is the owner of Yoga with Bonnie/Yoga in Balance LLC www.yogawithbonnie.com. She has taught thousands of hours of Yoga across the lifespan and is a former college faculty member, including being recognized as "Outstanding Faculty". Bonnie is a certified Roll Model Method ® practitioner and successfully completed training in Classical Yin Yoga .Further in-depth training and expertise includes Relax and Renew® , Pregnancy and Post-Partum Corrective Exercise Specialist, prenatal/postpartum yoga, pelvic floor specialty training, and Yoga Tune-Up®.   She is certified through Baxter Bell M.D. and Nina Zolotow in "Yoga for Healthy Aging" .