Holistic fruits of the yoga practice are realized in sports and leisure activities. Practice in all forms fine tunes our consciousness. Yoga "yokes": body, mind and breath.
In the scores of classes I taught at the local college where I was faculty, I had the delightful experience of guiding athletes: runners, baseball, football and tennis players; as well as swimmers and equestrians, to name a few.
All reported how the self-realization journey of yoga enhanced their experience of their sport.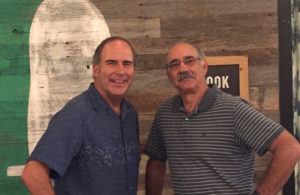 In this blog we learn how yoga and meditation supports the golf games of Dave(D) and Norm(N), two long time friends, Cubs fans, and frequent golfers.
When did you start playing golf?
D: "I started playing golf as a very young child.  My Dad and Grandfather were both golfers.  The house where I grew up was on the 6th hole of a local golf course; we spent many hours there.  I have vivid memories of playing in bare feet, with a baseball grip, not knowing anything about the mechanics or the proper golf swing."
N: "Since I was 16 or so. I played with high school buddies with borrowed clubs from my dad. Then I played with him when I moved to Tucson in the late 70s. We played weekly for a few years but either dropped it or played infrequently until the 2000s."
What do you enjoy about the game?
(N)"I enjoy that's its played outdoors in a pastoral environment. I enjoy the social aspect. I enjoy the exercise of walking. And I enjoy hitting the occasional great shot."
(D) "So many things: first, I love that it is a game that is played across generations.  I grew up playing with my Dad and my Grandfather.  Some of my fondest memories are the rounds that my Dad and I played together.  I routinely play with my sons.  We are together outside for >4 hours, talking and laughing.  There is no other experience like it and I treasure it."
"The other thing that I enjoy is the obsessive, difficult nature of the sport.  It is so hard to hit a good shot; when you do, there is this feeling of great accomplishment and satisfaction.  Again, there is no other experience like it.  I literally will lay in bed and replay every shot the morning after a round."
"Finally, I like that, for the entire time you are on the course, you forget everything and are totally dedicated to hitting a good shot.  For me, it is almost a form of therapy to totally remove yourself from your daily thoughts/worries and obsess about all things golf."
How long have you meditated AND/OR practiced yoga?
(D)"I have practiced meditation since I was an undergraduate at the U of A.  At that time, I was using it as a tool to overcome performance anxiety.  The person I was working with made me a cassette tape that I used many times over the years.  I stopped doing it for a few years, and started again routinely post-divorce.
"As far as yoga, my first exposure was Bikram yoga about 10 years ago.  My sister took me to a class and I liked it.  I tried other classes a few times over the years but could not find the style that clicked for me personally."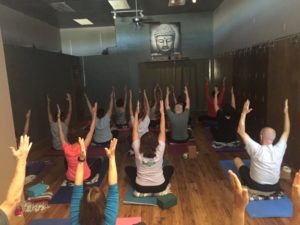 "About 2 years ago, I started going to Bonnie's classes, and that helped me transition to a Gentle Yoga class on Sundays at a location near my home.  I have been going almost every Sunday for about a year now."
(N)"I've practiced yoga for about 10 years. I don't formally meditate but I often find myself breathing mindfully."
Are there any insights from your practice that you are able to apply to your game? Does your practice enhance your game in any way?
(N)" Golf is as much a mental game as a physical game. You have to be both focused and relaxed. If you're tense it's difficult to swing the club freely. And if you're not mindful you can't get the ball to go where you want."
"Each shot must be played in the present. If you're thinking of the error of your previous shot, you'll tense up. And if you're thinking of the next shot to come, you'll lose focus on the shot in front of you. So whatever I can do to play just the present shot- the one that's in front of me, will help."
"On the physical side, yoga has definitely helped my balance and flexibility. I feel more centered over the ball and more conscious of being balanced on my backswing and follow- through."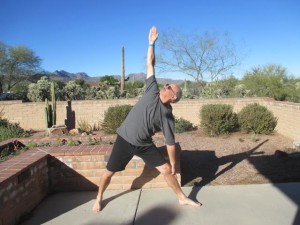 "In regards to my flexibility, I feel my swing is more fluid.  I'm able to get a nice full turn of my shoulders and a full rotation of my hips. I'm able to hit the ball further than at any point in my life and I believe yoga has definitely played an important role in that achievement."
(D)"The main insight is breathing and staying calm.  Before, I might have tossed and turned in bed the night before playing; a feeling of excitement and anticipation.  I would say that now I sleep very well the night before I play."
"I seem to have a better perspective on the sport; I carry a feeling of gratitude with me to the course and appreciate everything about the experience.  A sense of well-being.  Also, I don't let myself get angry when I hit a bad shot anymore; I know how difficult it is and embrace the moment, the process,"
What advice would you give to golfers about how yoga and/or meditation supports your game and your life?
D)"Before: To me, yoga/meditation helps before a round to put yourself in a better frame of mind.  You are calm and prepared."
"During: I do not practice yoga/meditation during a round.  Maybe deep breathing before a birdie putt to calm myself."
"After: I might practice meditation after a round, imaging a shot that I hit perfectly in hopes that I can recreate it."
(N) "Before: I use yoga moves such as eagle and humble warrior and lunges to loosen up before a round."
"During: I try to keep focused and relaxed through mindful breathing. I remind myself to drop my shoulder blades and relax my hands so I'm releasing tension before I swing."
"After: I have a beer. I hear it loosens to the joints!"
Anything else?
(D)"I have heard Norm say that yoga has made him a better golfer, but I don't think that is the case for me (my scores don't show it). I think it has made me appreciate and enjoy the experience much more.
"With lifelong yoga/mediation practice, I hope that I position myself for the potential of a truly magical round.  Where it all comes together and I hit every shot perfectly."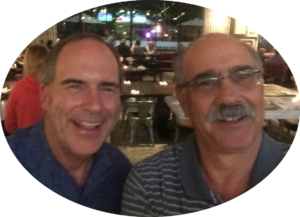 (N)"I think yoga has helped me enjoy golf more because of I'm more accepting of my imperfections and I approach each shot as a new beginning. Whether it's because of the mental or physical aspects of my yoga practice, I'm playing better golf. So that's all right with me!"
Stay tuned for Part Two. Check out my full teaching schedule here.