Prenatal Yoga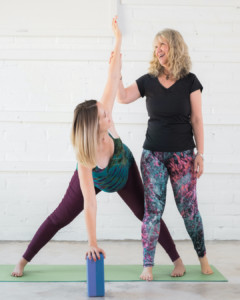 Announcing New Zoom Prenatal Yoga Class Series
When: Wednesdays, July 8-August 5, 2020. Five Week Series Format/Drop-In Students Welcome.
Next series: Wednesdays, August 26-September 23, 2020. Same time schedule as below. Sign up for the newsletter below or contact me to be notified when registration opens!
Schedule (Mountain Time):
4:15-4:29 PM arrive
 4:30-5:15(ish) PM Class.
Please complete your registration process no later than 30 minutes prior to class beginning.
Bonnie is exceptionally thoughtful – guiding a prenatal yoga experience that is informative, supportive, and flexible to each unique body. -Prenatal yoga Zoom participant, 2020.
        No previous yoga experience necessary and any stage of pregnancy welcome. Check out Google reviews and learn more about Bonnie here.

Rates*
Pre-registration Rate: $40.
The more classes you take in the five weeks, the less each class costs.
Drop-in/A La Carte rate: $10.
*Pay what you can.  See below.
Payment Options*
VENMO: Bonnie-Golden-2 (preferred) – (Choose the On-site payment option on the registration form below)
ZELLE: Please contact me for information. – (Choose the On-site payment option on the registration form below)
PAYPAL REGULAR REGISTRATION: See registration buttons below
RATES:   Five Week Series Pass: $40
Drop-In Rate: $10
*PAY WHAT YOU CAN  See more info below.
*Important Considerations
*Pay-what-you-can-afford accommodation. Please Venmo or Zelle (either preferred) or Paypal any affordable amount at least 30 minutes before the class or series begins so we can get you the passcode. No questions asked. Financial challenges now are real and I do not want those challenges to be a barrier to attendance.
Credit Toward Future Sessions Once the 5 weeks have passed, the plan is to start a new cycle; particularly if physical distancing is still in place. Sorry, no refunds or carry over credits for this online format. However, if you want to gift a credit to another pregnant woman within those 5 weeks, please simply let us know in advance.
MORE BENEFITS OF YOGA WITH BONNIE PRENATAL ZOOM CLASSES
Exclusive Complimentary Class Recordings-Practice as many times as you'd like! Recordings. If you miss a class you have invested in, or just really liked the class, you will receive a complimentary recording. In effect, you will have endless opportunities to practice with any given class.
Complimentary Optional One-One Zoom Consultation with Bonnie Schedule one 15 minute private consultation/question period/conversation after class or at a different time to review specific concerns, questions, ask for referrals, all unique to YOU.
Props: We may not use all of them at any given practice but it is helpful to have them handy as if you were at the yoga studio.
yoga strap-Substitute: necktie, bathrobe tie, stretchy band, long scarf

blankets-Substitute: bath towels or throw pillows

blocks- Substitute: a book that you duct tape firmly into a block, a stable stepstool

bolsters- Substitute: wrap a blanket around an extra yoga mat, roll 2 firm blankets     together or stack pillows at an angle.
Private sessions are available via ZOOM, customized for you.  Please don't hesitate to contact me for details, arrangements and further questions.
*********************************************************************************************************
Zoom Prenatal Yoga Class Series
Drop-In
Drop-in/A La Carte-Available 30 minutes before class begins.
Please Note: You will be redirected to Zoom immediately after registration.
Bonnie's New Book Release! "Yoga for Holistic Healing"! Coming 6/23/20. Available through Amazon and more sellers listed below.
My usual Public group Prenatal Yoga Sessions at  are on hiatus at the time of COVID-19. 
This prenatal yoga series provides practice, support, information sharing, and a beautiful sense of community. Many hearts beating in our space.  Read here to learn more about prenatal yoga.
Any questions at all?  Text, email or call here.
Want to know more about the fabulous benefits of prenatal yoga? Check here and here.
*************************************************************************************************
Private Pre/Postnatal Yoga Sessions
Private sessions are available at this time via Zoom.  Feel free to invite your partner to any session and I can also instruct in comfort measures for labor.Please don't hesitate to contact me for details, arrangements and further questions.