Thank goodness for VHS tapes.  Because once Lilias Folan was no longer on TV, I learned about yoga from tapes, books and my peers. Those are all wonderful and valid ways to establish a yoga foundation, by the way.
However, approximately 14 years ago I was encouraged by my far-flung and dear yoga kula friends to venture out of my home practice and find a teacher. I had my own truly dedicated yoga practice since 2002, and practiced and taught yoga complete breathing, visualization and simple poses for twenty years prior as a college counselor.
Our sons were still at home, so I actually needed to find a class that fit my life schedule as well as a skilled teacher.
As the saying goes: "when the student is ready, the teacher appears".
Natasha Korshak appeared…on my internet search at a time and yoga studio location that would fit my life as a full-time working mom.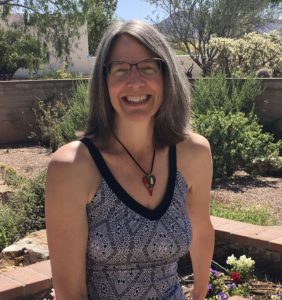 Lucky me.
Natasha has become one of my dearest and closest friends, confidantes, and mentors. And in life's full circle journey, I have taught workshops, classes and have substituted for Natasha at her beautiful beyond-yoga studio "The Sol Center" .
Learn more about one of the most influential and authentic teachers in Tucson.
When and how did you find yoga or should I say how did yoga find you?
I saw my mom doing yoga a bit with PBS. Then, my high school gym teacher taught yoga in Illinois. A lightbulb went off in my head. I loved it! I didn't like school, but I went to school everyday when we had yoga.
What was the yoga like in high school?
We did movement, stretching and breathed. It was classical.
It was the first time I felt comfortable in my body although I didn't know I was uncomfortable before. It was really striking.
The feeling of being by myself,in a group was really important.
How did you start out with yoga in Tucson?
While in college and my dad was dying, I read a book called "Yoga, Youth and Reincarnation" by Jess Stern. This was an odd refuge for me.
I then found my first teacher, Priscilla Potter. I was still a University of Arizona student and read about her classes in the Tucson Weekly. She was from the Temple of Kriya Yoga in Chicago. Eventually I was in her first class of teacher trainees. We were in the basement of Grace St. Pauls Church, at Temple Emanu-El, the "Zenith Center" and other different venues around Tucson
She gave so much support for reading and learning.
After I graduated college with a degree in history, I taught at the park district. At the same time I waited tables, piecing things together. I worked at Blue Willow, Small Planet, and cooked for retreats for Priscilla. I also had a little vegetarian catering company.
What was your practice like in the beginning of your yoga journey here?
I was with Yoga Connection primarily. There wasn't much yoga back then. My first break was getting the job at Miraval Arizona. I went to a job fair with a friend and applied to a position as assistant yoga manager. In those days it was a handful of people doing yoga. We all knew each other on some level.
I was really interested in the meditative path. I eventually met Rama Jyote Vernon when she came to Tucson. The thinking that stood out to me from Rama was a huge vision of Yoga beyond any lineage.
I saw the entire world of yoga and that Rama lived it. She was very close to Mr. Iyengar.
I loved Rama's way of teaching Iyengar style yoga as a woman, although she wasn't identified as an Iyengar yoga teacher.
How did your journey unfold in such a multi-expressive way?
I was teaching part-time at Miraval Arizona and eventually worked full-time as the Director of Yoga, Meditation, and Mindfulness Programs. I grew with the company.
At Miraval I studied the mindfulness piece as part of yoga, but distinct from yoga. I was able to be around many of the pioneers of the mindfulness world including physicians, and psychologists. I was exposed to the clinical aspects.
I also ran a support group at the Cancer Center and saw how this fit into complementary and alternative medicine. It helped me be in alliance with the clinical world without being in the clinical world.
Then I went to the Interfaith Theological Seminary as a way to see the mind/body/spirit connection in an interdisciplinary way.  This was the best fit for linking my practice that was becoming my profession as well as my spirituality.  I saw how my priorities fit into a bigger whole.
My mother was Catholic, my father was Jewish, I practiced Hindu Yoga, and Buddhism. The Interfaith Theological Seminary helped me bring this together because I did not want to dis-identify with any of this.
Public Classes
I wanted to teach publicly. I volunteered at Tucson Yoga Studio in the beginning of it's development. I believed in Devi (formerly Debbie) Daly's vision and wanted to support that. I taught there for 7-8 years.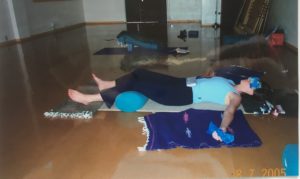 Eventually, I developed "Yoga at Heart" and Mindfulness and MBSR (Mindfulness Based Stress Reduction) programs in Tucson, using various facilities.
The Sol Center
I began to sense that I wanted a place to hold all the things I was doing around yoga, mindfulness, interfaith and grief work.  Some of the impetus to open "The Sol Center" was the opportunity and momentum to open a school to carry on the essence of Rama's teachings.
I feel so blessed that I get to do this. We purposely didn't put Yoga in the title, because I want The Sol Center to be a new generation of yoga practice, study and training.  Not just an exercise studio, not just what yoga is perceived to be currently.  We are looking deeply at how we live this path. People can come and do one class and never do anything else we offer. Some people will begin to branch out to other classes, programs, trainings- keep learning and exploring for years. That is what we are interested in providing- depth of practice that is not just about yoga poses.
What is most important to you as you teach yoga and train yoga teachers?
The most important piece is the breath! Even in asana, as Rama says, it is "being and  breathing with the cosmic vibration."  The breath is most important to the form. I know how to do form (poses), but the breath is most important. Even more than that is the whole system of yoga.
We are intentionally holding the piece that yoga is about the breath, the mind, and that I am not my body. I am my soul and connected to the eternal.
We want people not to be so locked into the body. There's nothing mechanical about becoming a yoga teacher. There is form and technique but how it comes together is mysterious, alive and fresh.
The Yoga Journey
It's fascinating to be practicing, teaching and training people and continually evolving. Yoga is dynamism; it's not a done deal. Once it is operationalized it is so practical. It's about living with more intention and more balance. It changes how you see the world. It also takes humility.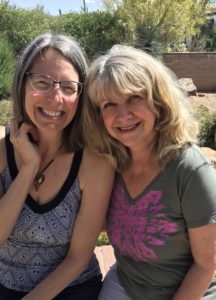 The deeper we go with our practices and teaching, the veils come down and you start to see how delicate you need to be. There's so much we get wrong as teachers because we think we're getting it right!
Check out The Sol Center classes and my current class schedule!