There are fine, authentic Yoga teachers humbly guiding students around the world. These individuals are somewhat under the radar, quietly teaching authentic yoga with integrity, respect, and importantly, humility. Maybe they aren't on the covers of magazines, or have non-stop Instagram feeds. Yet many of us find these teachers through (the most powerful "social media" that exists!) word-of-mouth.
I am blessed to have spent my seminal yoga studies with both Natasha Korshak and Chris Coniaris. I continue to be inspired by the strong foundation and inspiration they provide me as a student and as a long-time teacher myself.
As promised, here is Part II of my profile of Chris Coniaris. (Part I is a must read and can be found here.)
Talk about your love of the outdoors and how nature is your teacher.
I've been very fortunate to have spent a lot of time in beautiful wild places including here in the Sonoran desert. Nature is the best teacher of untwisted truth. It's really where I look to for guidance. The depth, the interconnectivity, the blurring of boundaries that yoga helps us experience is obvious in nature, if we pay attention.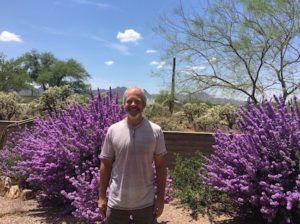 I constantly receive guidance from nature. I do practice asana and meditation outside frequently. The saguaros help to define an uplifted posture. Certain arm positions are more likely to occur practicing amongst the saguaros. The sound of the breeze through the cactus spines remind me of breath.
The uneven terrain forces awareness and adjustment of center of gravity.
It can be as simple as that or as complex as what is ahimsa.
Can you give an example?
I was in a meditation in a wash, I opened my eyes and saw a bobcat with a still writhing baby rabbit in its teeth. It feared I would take its meal so it snapped the rabbits neck and moved back 3 feet. Was the act violent? The cat walked away with food possibly for it's offspring it needed to provide for, yet it took a life in violent fashion .The Upanishads say "all life depends on food for life". In the end all life becomes food for life.
So simple judgements become difficult.
"Waking up in yoga is getting out of the human centric viewpoint. One must treat animals, plants, and even a clump of dirt with the same respect you'd treat your mother! That's the level of interconnectivity and unity that the deepest states of yoga get us to recognize."
Who have been your influential teachers over the years and what takeaways from your time with them are still part of your practice?
My first teacher(and your first teacher is important!) Bill Counter, taught pranayama in each of his classes. He never overstated his abilities, and was an authentic person. Very important qualities for a yogi. Certainly Acharya (Dr. K.L. Shankanaranya Jois) is an example as someone who has lived a yogic life and has dedicated his life to preserving and teaching yoga. The depth of Acharya's knowledge both in Yoga's practices and Yoga's philosophy were helpful at a crucial time. These gave me a lot of confirmation of my personal experiences.  I studied with him for 6 months in India, and participated in an eight week tour of important Yoga sites through Southern India. That intensive time together allowed for deep connection. I also studied with him 7-8 times in the US; mostly retreats in Colorado, Tucson and Portland.
Acharya only teaches practices to individuals one on one. Learning with his guidance how to adjust practices for individuals has allowed me to teach to the person and their needs.
Also my study with the Desikachar school was very helpful to see how they approach individual yoga sessions.
Several other teachers and systems influenced me. Some are derived from Krishnamacharya's teachings. I studied once for 6 months with Pattabhi Jois in Mysore and with several Iyengar teachers and their individual styles. I also studied at the American Sanskrit Institute.
It was wonderful for me to study directly with your teacher Dr. Jois with you in the room. He emphasizes pranayama as a path to meditation. And it was through studying with you for more than ten years that I continue to integrate many of those pranayama practices into my yoga classes, and my personal journey. How are those sequences received by your students today?
The practices are still very well received and if anything have more need and balancing effect in a typical person's life. It was what I just taught in Portland recently at the "Weekend Immersion into Awe" with Sarahjoy Marsh and Deobrat Mishra. I also teach with Sarahjoy at Brieten Bush Hotsprings near Portland. I've taught with Sarahjoy for 20 years and have students in Portland doing pranayama for that length of time. Even where I teach in prisons, I find students notice the effects of specific breathing practices and practice regularly. We all want and need tools for self-regulation.
Tell us about your professional background beyond yoga, and how it's informed your yoga teaching.
I have a Chemistry Degree and a Pharmacy Degree. I'm also CSPI Certified Specialist in Poison Information. I have worked for 20 years at the University of Arizona Poison Center. In addition to our emergency phone line, we help train medical and pharmacy students, medical residents, and fellows. We also have been a lead research center for new rattlesnake and scorpion antivenoms. I love the service aspect of the job, the variety, and the smart folks I am around.
When I started as a teacher there was very little yoga related anatomy or physiology out there. I was fortunate to have this background. Working at the Poison Center has allowed me to have access to peers that are Medical Doctors and Geneticists. I frequently ask questions about students with certain medical issues or histories. This has been an immense help to me as a teacher and to my students.
Anything else you'd like to add to this or our previous conversation?
In our discussion of what is important in yoga to me, I would like to add that after Ahimsa (non-harming), meditation is the heart of yoga. Meditation is the means by which yoga is learned. There is a yoga saying that "Yoga is learned by the means of yoga by the experience of Yoga".
"We use breathing practice to arrive at mental states of yoga. It's through spending time in the mental state of yoga that we gain the wisdom directly.That's why yoga needs to be learned through direct experience."
There is so little meditation taught in yoga that people need to look to Buddhism for meditation instruction.  I'm glad there are teachers available, in any tradition; but I am also sad that meditation is not a central part of yoga in the USA.  Meditation has always been the primary method of yoga throughout its many diverse forms.
People come to yoga often because they're having difficulties for which the usual remedies don't work. Difficulties can be physical such as athletic injuries, or jobs that no longer serve them. A common thread is that something that worked is no longer working. In our culture, it seems yoga is something that people don't look to first for healing, no matter what the cause.
How can people keep up with where/what you are teaching?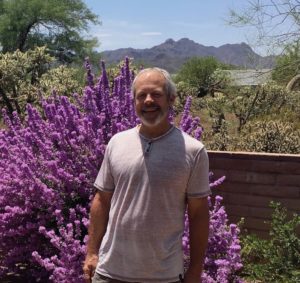 On Facebook, they can "like" Chris Coniairis Yoga; and learn about upcoming offerings. I am also available for private sessions when I am in Tucson.
I love to do retreats and I have a weeklong event in Talkeetna Alaska called "Moving from the Inside Out'. In November I am teaching a 5 day retreat at Gray Bear Lodge in Central Tennessee called "Exploring the Wilderness of Being".
Note: Chris' Tucson based offerings are in development. Stay tuned!
Also please check out and join Bonnie at upcoming workshops and weekly classes!