Workshops
Posture and Healthy Aging: Insights and Practice
 Monday, November 5, 2018, 4:30-6:30 PM, at Yoga is Therapy, 2921 E. Fort Lowell.
Early Registration: $35 by October 28, $40 after. Class size limited.
 Register here; cancellation policies here.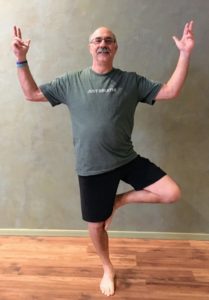 This session will incorporate individualized postural assessment including familial, cultural and body image related influences. Learn how your posture impacts your breathing (and how your breathing impacts your posture).
Apply practical incremental changes to your body, mind and breath that might lead to a healthier self.
You will leave with physical practices from yoga, and beyond. You will learn specific strategies to improve your posture for healthy aging.
Learn about unconscious postural habits and their cumulative impact on your bones,  muscles, and  connective tissue.
Be prepared for some "aha" moments as well!! More details to come.
Taught By: Bonnie J Golden, M.Ed e-RYT is the owner of Yoga with Bonnie/Yoga in Balance LLC www.yogawithbonnie.com. She is certified through Baxter Bell M.D. and Nina Zolotow in "Yoga for Healthy Aging" . Bonnie was a participant in Dr. Loren Fishman's "Yoga for Osteoporosis" research study. and has completed distance learning courses on osteoporosis and balance with Dr. Fishman and Ellen Saltonstall. Bonnie is a certified Roll Model Method ® practitioner. Additionally, she successfully completed training in Classical Yin Yoga with Debbie Daly founder of Tucson Yoga. Further in-depth training and expertise includes Relax and Renew® , prenatal/postpartum yoga, pelvic floor specialty training, and Yoga Tune-Up®.   Learn more about Bonnie here.
Pre/Postnatal Yoga and parent workshops are here.