Workshops
Fall 2018 Workshops
Tonic for the Tissues: Yin, Roll, Relax
Next Session: Wednesday, October 3, 2018, 5:45-7:15 PM, at Yoga is Therapy, 2921 E. Fort Lowell.
Early Registration: $20 by September 24, $25 after.  Class size limited.
Register here. Cancellation policies here.
By popular demand from ALL students, you have asked for a devoted yoga session focused on self-care using the Yoga Tune-Up® Therapy Balls and Yin Yoga. We will roll out tightness and tension in our muscles and connective tissues.
This session will be focused on your hips, legs, and feet. Your physical and mental condition will be restored  to a stress-free state.
We will then melt even further practicing yin poses modified for all bodies.
Note: We will have therapy balls for participant use during the workshop. Please bring cash or check if you wish to purchase your own set.
Comments from a recent participant:
"I was able to get in and out of the car without thinking about it. I bent down to feed the dog. I put on her leash without wincing. That hour was literally life-changing. I am a convert to your ways! THANK YOU!"
**************************************************************************************************
Posture and Healthy Aging: Insights and Practice
Mark your calendars: Monday, November 5, 2018, 4:30-6:30 PM, at Yoga is Therapy, 2921 E. Fort Lowell.
Early Registration: $35 by October 28, $40 after. Class size limited.
 Register here; cancellation policies here.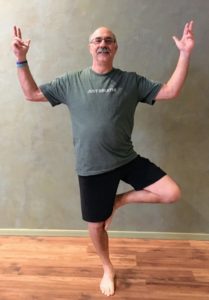 This session will incorporate individualized postural assessment including familial, cultural and body image related influences. Learn how your posture impacts your breathing (and how your breathing impacts your posture).
Learn about unconscious postural habits and their cumulative impact on your bones,  muscles, and  connective tissue.
Apply practical incremental changes to your body, mind and breath that might lead to a healthier self.
You will leave with physical practices from yoga, and beyond. You will learn specific strategies to improve your posture for healthy aging.
Be prepared for some "aha" moments as well!! More details to come.
Both Sessions Taught By: Bonnie J Golden, M.Ed e-RYT is the owner of Yoga with Bonnie/Yoga in Balance LLC www.yogawithbonnie.com. Bonnie was a participant in Dr. Loren Fishman's "Yoga for Osteoporosis" research study. and has completed distance learning courses on osteoporosis and balance with Dr. Fishman and Ellen Saltonstall. Bonnie is a certified Roll Model Method ® practitioner. Additionally, she successfully completed training in Classical Yin Yoga with Debbie Daly founder of Tucson Yoga. Further in-depth training and expertise includes Relax and Renew® , prenatal/postpartum yoga, pelvic floor specialty training, and Yoga Tune-Up®.   She is certified through Baxter Bell M.D. and Nina Zolotow in "Yoga for Healthy Aging" .